I have written quite lot about
TempLS
V4, which was prompted by the need to make use of the extended global land temperature database
GHCN V4
. However, the reality was that there really wasn't much difference, IMO. However, I saw that
Clive Best
, in posting his June average, had given chief prominence to the value calculated with V3, and this showed a drop of 0.04°C. Now Clive's method of triangulation is similar to my TempLS mesh, although I use ERSST V5 for ocean rather than his HADSST3. And we usually get very similar results. However, this result was rather different from my 0.067°C rise.
Other indices
generally agreed with mine.
Looking further, it turns out that calculating with V4 gave a rise of 0.04°C, closer to the finding of others. But he was inclined to emphasise the difference, leading up to a striking
tweet
in which he said that transition from V3 to V4 was responsible for a 0.2°C discrepancy. So maybe that needs more attention.
An extra oddity came when his post was reposted
at GWPF
, where their spin was that
"The global averaged surface temperature for June 2019 was 0.62C, back down to where it was before the 2015/16 El Nino"
or, on Twitter,
"Global Temperature Falling Again"
. This was rightly mocked on Twitter.
So, I ran TempLS again with V3, unadjusted and adjusted. It isn't clear to me which version Clive was using. But I regularly use unadjusted, and I think this gives the best guide to the changes in the dataset, as opposed to the effect of homogenisation.
The first thing to say is that I did get a very small change with V3, at 0.004°C rise. That is about 0.063°C less than with V4, a similar difference to Clive. As we'll see that is a moderately large discrepancy by past experience, although not an outlier. Anyway, let's see some graphs.
Clive's first graph was monthly data from about 1998. So in my first plot, I'll cover that range, using unadjusted GHCN, along with ERSST V5:
I've marked the trends over the period. There are some deviations in the early part, but very close later. This contrasts with Clive's claim of a growing discrepancy. Here is the last decade in more detail:
Again the V4 has lower trend, but starts a little higher, converging to be almost exactly equal at the end. You can see best in this plot that is discrepancy in June is unusual recently, but not unprecedented, and such differences were more common around 2012.
The final plot was of annual averages going back to about 1975. Here is my version:
This does now show some divergence in mid-range, with a slightly higher trend for V4. But I do think that all these differences are well within the range of chance variation. You can't expect the addition of so many stations to give exactly the same result.
For comparison with Clive's outcome here is his version of that last plot, with the late discrepancy:
You can see that even Clive's V3 result makes a mockery of thw GWPF claim that we are back to where we were before the 2016 El Nino.
Anyway, I'll look at the same plots using adjusted GHCN V3 and V4. Here is the 2 decades of monthly:
It's very close at the recent end, but there is now a higher trend for V4 relative to V3. The last decade:
Again, close at the end. Now the trend has V3 higher than V4, although V4 is offset higher, reflecting accumulated trend since 1961-90. But the end difference of the trend lines is only about 0.02°C.
So finally the annual since 1975 (which is the mid-point of the anomaly base period):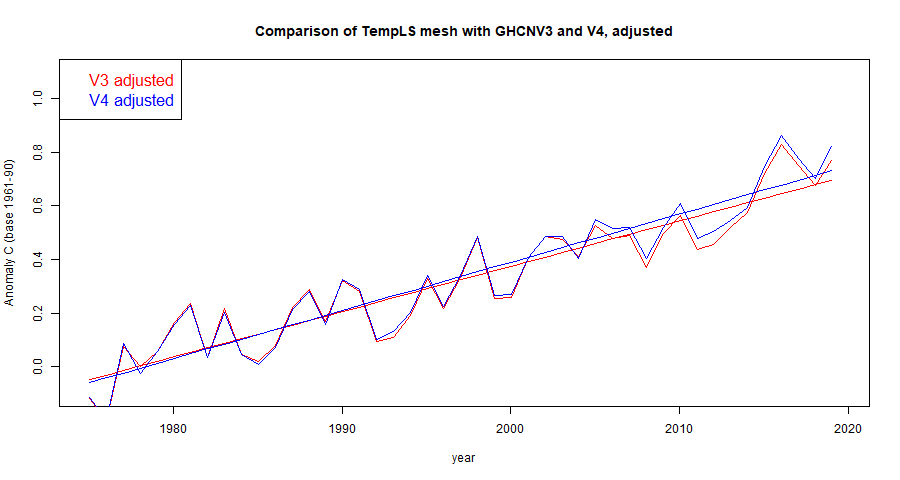 V4 has the higher trend. The trend lines pretty much have to start at zero in 1975, because of the anomaly base.
Here is a table of the trend values shown. I have shown with red the cases where the V4 trend is higher than V3.
| | | |
| --- | --- | --- |
| Trend units: °C/Decade | GHCN V3 | GHCN V4 |
| Unadjusted | | |
| 1998-2019 | 0.372 | 0.352 |
| 2010-2019 | 0.206 | 0.197 |
| 1975-2019 | 0.174 | 0.178 |
| Adjusted | | |
| 1998-2019 | 0.376 | 0.361 |
| 2010-2019 | 0.187 | 0.202 |
| 1975-2019 | 0.169 | 0.18 |
Conclusion
I think there is little systematic difference, and based on the unadjusted data, no basis for saying that the new stations have skewed the trends. And certainly no claim for a 0.2°C discrepancy. As for his June value of 0.62°C, I get, with the same basis, 0.725°C.
Update I have put the full set of anomalies dating back to Jan 1900 on a zip file (with readme)
here
.
Update I have also plotted the differences, V4-V3, since 1900, for unadjusted vs adjusted. The overall trends are 0.0037C/decade for unadjusted and 0.0026C/decade for adjusted. Very small.