OK, that's the new TempLS result. The other surface indices haven't reported yet. Here is the plot comparing indices for the last four months, with all index anomalies relative to 1979-2000.
Update - the linked image here is periodically updated, so it shows new figures as they arrive. GISS for July has been added.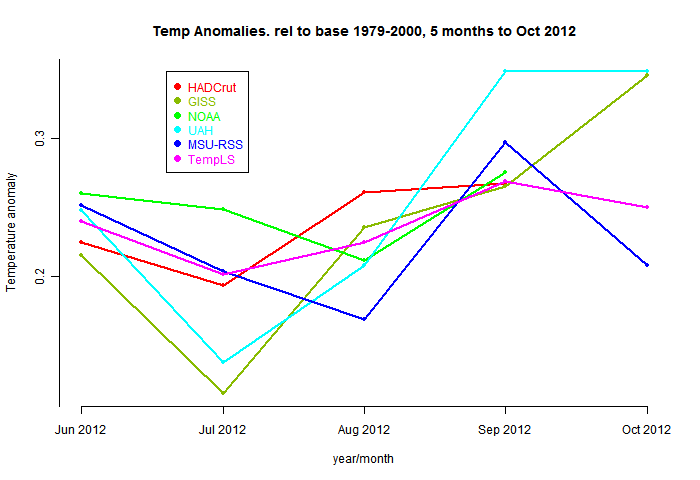 And here is how the warmth was spread around:
Update - I haven't been properly clear here on anomaly bases. For the time series plots I used 1979-2000, so I could plot them all on one graph. For the spatial plot, I actually used the default - the average for the whole period, which was 1960-2011. Since I'm using GISS colors, it would be better to use the GISS period which is 1951-80. That will require exrending the calc back 10 years. It doesn't make much difference to the color plot; the change will be small relative to the range of monthly means, and one could simply adjust the color scale zero, leaving the plot unchanged.
There's a lot more to say about how this was done. Obviously, I'm using fairly early information. But the coverage is pretty good. We'll soon see how it holds up against the major indices. Details below the jump.
I used a combination of
GHCN V3
and
ERSST v3b
. I ws waiting for HADSST2, which the previous month was based on, mainly because I am more familiar with it. But the ERSST data came out on Aug 3, and seems fairly complete. Maybe some numbers will change. The GHCN file was ghcnm.v3.0.0.20110809, dated 9 Aug, though apparently posted on 10th.
The ERSST data has 2x2° resolution. That's a bit more than I need, and would tend to swamp the land stations, so I amalgamated cells to 4x4°. Total land and sea station numbers were good - 4000 (2102 sea, 1898 land), compared with 4084 in June and 4262 in May. It seems that when all stations have reported, totals currently are about 4500 (land and sea).
Here is the plot of the last 48 months. You can find these plots and the numbers (not set to the 1979-2000 base) at the regular
current data site
.
Some more details - I used, in TempLS V2.2, the weighting scheme that I've called
type zero
, with equal area cells. I ran the reconstruction from 1960, to get the normals. The shaded plot is made using 140 spherical harmonics.
Here is the pattern of stations that have reported so far. As previously, the equal area cells used for weighting are shown in blue if they contain stations that reported in July, else yellow. You can click to enlarge.