While discussing the current very bad bushfires in Australia, I have been getting into comparisons with the areas burnt in previous years. This year is very large - currently often quoted as about
10.7 Million hectares
. That is huge relative to some previous bad years - eg 1939 at 2 M ha. But I sometimes encounter claims of other monster fires in the past. One is the
bogus 5 M ha
attributed to the 1851 fires in Victoria. But another one I encountered was the claim of 117 M Ha in 1974/5 at
Roy Spencer's blog
. These do seem to dwarf the present fires.
Now I had encountered this year in fire statistics before. 1974 was a very wet winter in much of Australia, and in the following December, there were large fires in western NSW, an arid region, where the unusual winter growth burned vigorously. There is a contemporary account
here
. The area was quite large, 4.5 M ha has been quoted, and homes were lost and six people killed. So I thought that was what is meant.
But Roy Spencer quoted over 100 M Ha. The total area of NSW is 81 M ha. California and Texas together are about 108 M ha. I didn't believe it. But he had a plot of
Wiki data
: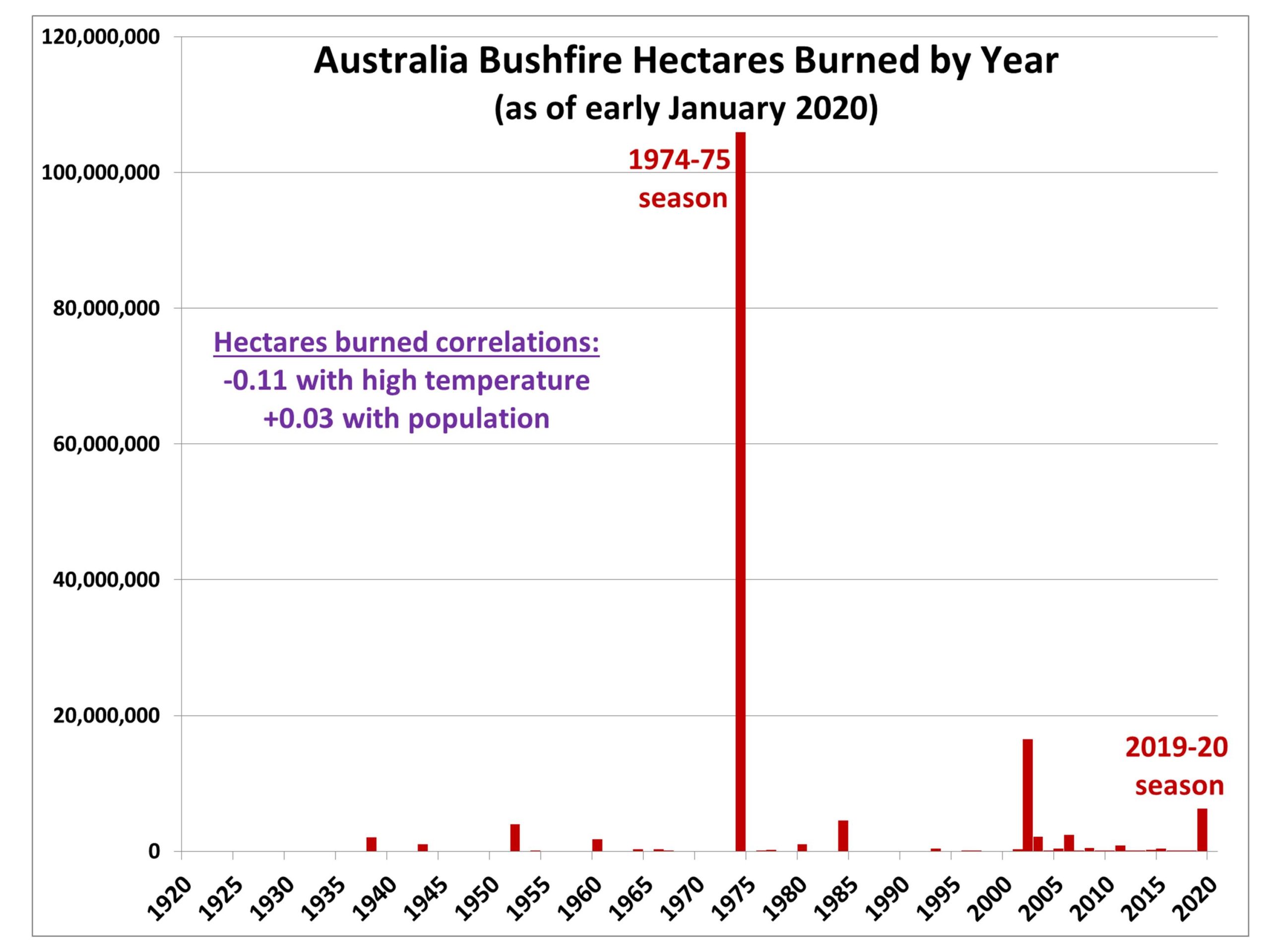 and indeed the table did list numbers like 45 M ha for the Northern Territory in that year, total 117 M ha. Now I remember the NSW fires, but I didn't remember any stories about such a huge conflagration, which as they noted, is about 15% of the country.
One source quoted was
this report
to the Government following the 2003 fires (a sort of poor man's Royal Commission). I was at this stage being harried by commenter
harry
at WUWT, who helpfully pointed to
this document
, which was part of the Commonwealth Yearbook for 1995 (ABS). Now I am
not a fan
of these government stats sources for this sort of data, since I don't think they do much scholarly inquiry, but just take figures at face value. But this was marked as contributed by Phil Cheney of CSIRO, who I used to know by reputation, who was a doughty warrior for prescribed burning. So there should be something to it.
"harry" then pointed me to
this informative document
about NT and in particular its savanna fires. I knew these were regular and large, but I did not realise how large, or at least how large were the quoted areas. It did say that 45 M ha were burnt in 1974. But it also gave this table of particularly large fire years:
So 1974 was large, but not exceptional. That is why I hadn't heard of it. But now there is a curiosity. The 45 M ha for 1969 would also easily qualify for the Wiki list of big fires, as would the other years. But as Roy's graph shows, 1974 stands alone.
I think this probably does come back to Phil Cheney's doc, and indicates the haphazard way these numbers are collected. I think Phil was just using 1974 to illustrate how the northern savanna burnings were large but different to the forest burnings. But it is a number, and so it goes into collections like Wiki's. He didn't mention 1969, so it doesn't.
I looked up more references on savanna regions.
This paper
gives some general averages:
| | |
| --- | --- |
| State | Annual average area burnt M ha savanna |
| NT | 18.1 |
| WA | 10.6 |
| Qld | 8.56 |
And there is the dilemma. These numbers would dwarf most years of temperate forest burning. But that is what we want to know about, so they must be separated. This is not being done systematically. In particular, there is the random inclusion of savanna data for 1974/5 in the Wiki list.
Wiki gives
10.7 M ha
as the area burnt by the current season's fires. That does not seem to include savanna, but one has to be vigilant, and a further complication is that some of the forest fires have been close to the tropic in Qld (even Mareeba is mentioned).
Anyway, I think the message for the moment is to be aware of the distinction between temperate forest fires and the fires of the savanna, and also the occasional flare-ups in the arid regions, which are really something different. I hope Wiki will wake up to this too.