A /noscript>new
paper
by McKitrick, McIntyre and Hermann is being discussed.
David Stockwell
and
Jeff Id
have threads, and there is now one at
Climate Audit
and at
James Annan
.
An earlier much-discussed paper by Santer et al comparing models with tropical tropospheric temp observations contended that there was no significant difference between model outputs and observation. MMH say that this is an artefact of Santer using a 1979-2000 period, and if you look at the data now available, the differences are highly significant.
In
discussion
at the Air Vent, I've been contending that MMH underestimate variability in their significance test. They take account of the internal variability of both models and observations, so that each model and obs set has associated noise. But they do not allow for variance between models. I said that this restricts their conclusion to the particular set of model runs that they examined, and this extra variability would have to be taken into account to make statements about models in general.
However, it's clear to me now that this problem extends even to the analysis of the sample that they looked at. They list, in Table 1, the data series and their trends with standard error. The first 23 are models. In Figs 2 and 3 they show the model mean with error bars. I looked at the mid-trop (MT) set; in Table 2 they give the mean as 0.253, sd 0.012, and indeed, with error bars 0.024 that is what Fig 3 seems to show.
So I plotted Table 1 as a histogram. Here's how it showed, with the mean and error bars from Table 2 MMH marked in red.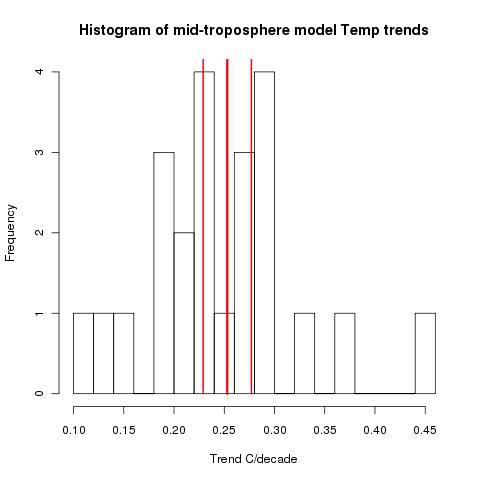 The key thing to note is what James Annan also noted. The models are far more scattered than the supposed distribution indicates. The models themselves are significantly different from the model mean.
Update: Of course, the error bars are for the mean, not the distribution. But the bars seem very tight. A simple se of the mean of the trends would be about 0.022. And that does not allow for the uncertainty of the trends themselves.
Update 2: As Deep Climate points out below, that last update figure is wrong. A corrected figure is fairly close to what is in MMH's table.
However, Steve McIntyre says that the right figure to use is the within-groups variance - some average of the se's of the trends of each model. That does seem to be the basis for their figure. I think both should be used, which would increase the bound by a factor of about sqrt(2).