GISS has posted its March estimate for global temperature anomaly, and it has risen from 0.45°C in February to 0,70°C in March. That balances the drop from January to February.
The TempLS comparison is murky this month, because of GHCN errors that I described
here
,
here
and
here
. My original estimate was a rise of 0.27°C, but after correcting a sign reversal at Sarh in Chad, that rose to 0.31°C. Then I found that NORD ADB in Greenland had September data instead of march; removing that brought the estimate back to 0.23°C. Then I found that other Greenland stations were also affected, and removing them all made the
final estimate
also a rise of 0.25°C. But I had little faith in it.
The comparison maps are below the jump.
Here is the GISS map. It shows no sign of the Chad problem, which they must have fixed. But it does show high values in Greenland.
And here, with the same scale and color scheme, is the earlier
TempLS map
: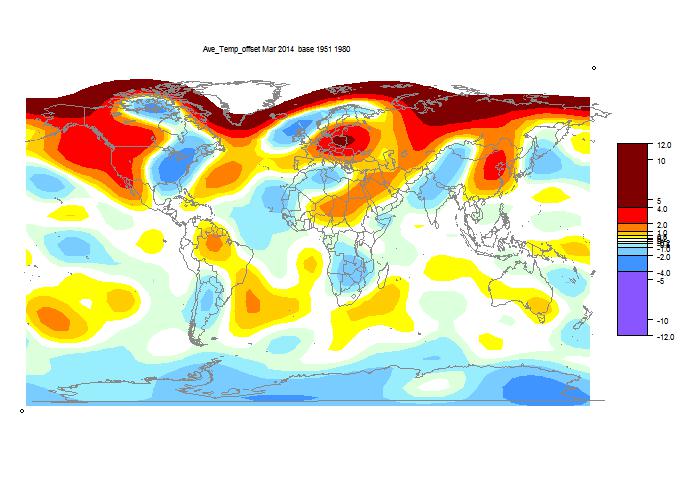 GISS was gererally warmer, more so especially in Asia, but less in W N America. I think TempLS was cool because of an adjustment I made because my new scheme for simple harmonics wasn't getting the anomaly base right. I think I have a proper fix for this now. The TempLS map also had the artificially high Greenland data.
Previous Months
February
January 2014
December
November
October
September
August
July
June
May
April
March
February
January
December 2012
November
October
September
August
July
June
May
April
March
February
January
December 2011
November
October
September
August 2011
More data and plots