TempLS mesh
anomaly (1961-90 base) was down from 0.724°C in October to 0.683°C in November. This compares with the
larger reduction
of 0.12°C in the NCEP/NCAR index, and a
much greater fall
(0.27) in the UAH LT satellite index. The TEmpLS average for 2017 so far is 0.720°C, which would put it behind 2016, and just behind 2015 (0.729°C). It's unlikely that December will be warm enough to change that order, or cool enough to lose third place (0.594°C in 2014).
Update 10 Dec: As Olof noted in comments, although I had tested and enabled use of ERSST 5 (instead of 4) earlier this year, it wasn't actually implemented (failure to correctly set a switch). It doesn't make much difference on a month to month basis. The fall in November was 0.064°C instead of 0.04°C, and the spatial pattern is very similar. But as he astutely noted, it does make a difference to 2017 versus 2015. The means for the last three years are 0.729, 0.835, and 0.758. That puts 2017 0.029°C clear of 2015, which means 2017 will be in second place if December exceeds 0.41°C, which seems likely.
The anomaly pattern showed two marked warm spots in W Siberia and N of Bering Strait, and less pronounced in SW US. Cool in Canada and E Siberia, fairly warm near the poles. Theer was a weak La Nina pattern; much less than with the NCEP/NCAR index.
Here is the temperature map: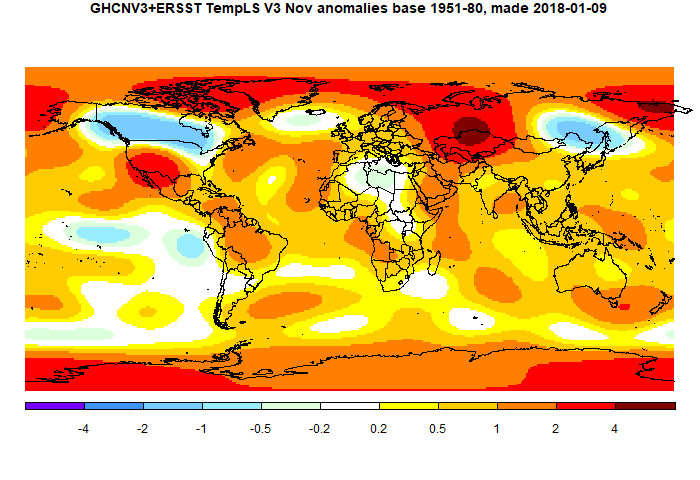 This post is part of a series that has now run for six years. The TempLS mesh data is reported
here
, and the recent history of monthly readings is
here
. Unadjusted GHCN is normally used, but if you click the TempLS button there, it will show data with adjusted, and also with different integration methods. There is an interactive graph using 1981-2010 base period
here
which you can use to show different periods, or compare with other indices. There is a general guide to TempLS
here
.
The reporting cycle starts with a report of the daily reanalysis index on about the 4th of the month. The next post is this, the TempLS report, usually about the 8th. Then when the GISS result comes out, usually about the 15th, I discuss it and compare with TempLS. The TempLS graph uses a spherical harmonics to the TempLS mesh residuals; the residuals are displayed more directly using a triangular grid in a better resolved WebGL plot
here
.