The anomaly for GISS in June was 0.76°C (h/t JCH). This was just as I had expected, since TempLS mesh rose from 0.618°C to (now) 0.673°C. However, meanwhile the GISS May number increased from 0.71°C to 0.73°C, so the rise was not quite as great.
Behind that lies a story. As Olof noted, GISS this month
switched
from using ERSST V3b to ERSST v4 (I switched last month). They show some plots of the differences
here
. Here is the difference plot
In the new file April 2015 is the same as before, and May only increased by 0.02°C. But the plot shows an annual difference of more than 0.05°C in recent years. I plotted the monthly differences (GISS v4 - 3b) over the last five years:
April and May do look quite different. I wonder if GISS is still using v3b there? Anyway, the usual maps and commentary are below the fold:
Here is the GISS map for June 2015: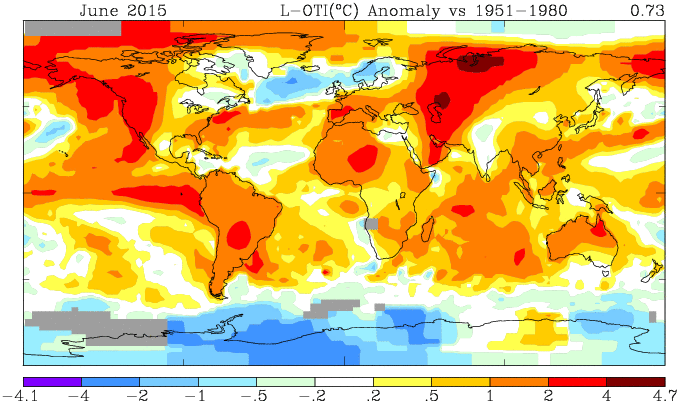 And here is the corresponding TempLS mesh map, based on spherical harmonics:
TempLS is somewhat smoothed so doesn't show the peaks of GISS. But the features are just the same. Heat in central and W Russia, and in NW N America. Cool in Antarctica, and N Atlantic, extending over Scandinavia.
You may have noticed that an error had got into my TempLS map plots recently. They were shown with mean subtracted, and so much colder. This has been fixed.