Hansen's famous
1988 paper
used runs of an early GISS GCM to forecast temperatures for the next thirty years. These forecasts are now often checked against observations.
The forecasts are subject to scenarios, which are often misunderstood. A GCM can calculate all sorts of things, but some have to be supplied as inputs. CO2 is the most notable; climate science can't predict how much carbon will be burnt. Volcanoes are another. But there is also TSI, other trace gases. More marginal is ENSO. Only recently have GCM's been able to compute it, so it can make sense to treat it as a forcing, subject to scenario.
Scenarios are not predictions. You have to calculate a range of them to have a chance of getting a result that will correspond to what really happened. When you look back, the sole test of which scenario to apply is what corresponds best to the history. It doesn't matter what Hansen or anyone esle thought was likelier. You check against the scenario that fits what happened.
However, I'm not talking here about scenario confusion, but a more basic issue - what observation dataset to use. It's prompted by a
post today
at WUWT in which the predictions were rated against satellite indices for the lower troposphere. That certainly wasn't what Jim Hansen was predicting.
We know what actual index he had in mind, because he graphed it against model results. It was the index compiled from meteorological stations, described in the paper of
Hansen and Lebedeff 1987
, the year before. This eventually became the GISS Ts index. I believe that is the index that should be looked at first. The more modern Land/Sea indices were not available in 1988.
However, there is an argument that Land/Ocean indices are a better representative of GMST, and
Real Climate
, in their periodic reviews of model predictions and observations, use the GISS and Hadcrut Land/Sea indices. I think this is a little unfair to Hansen, as they rose more slowly than the GISS Ts. But there is a rationale.
So here is where a JS/HTML 5 graphic can help. I found out how to incorporate bitmaps in HTMS 5 canvases, so today's active plot allows you to choose from a wide variety of indices, and superimpose them on Hansen's original graphic.
Anomaly offsets
With multiple indices there is always an issue with differently calculated anomalies. Here I used the GISS Ts index unchanged; it does (still!) match Hansen's observed data in the overlap period. I then shifted the other indices so that they would have the same average as GISS Ts from 1980 to 2009 (30 years). But I've allowed users to modify this offset if they have a better idea.
So here is the plot. Below is advice on how to use it.
| | | |
| --- | --- | --- |
| | Dataset | Offset deg C |
| | Hadcrut3 | |
| | GISS Land/Ocean | |
| | NOAA Land/Ocean | |
| | UAH Lower Trop | |
| | MSU-RSS LT | |
| | TempLS | |
| | BEST | |
| | GISS Ts Met stations | |
| | CRUTEM 3 | |
| | NOAA Land | |
| | Clear All | |
| | Offset all | |
Mechanics
You can draw the plot of any dataset by clicking the radio button. This is not a toggle, and the plots cannot be individually erased. But there is a clear all button at the bottom, which also sets the offsets to zero. As foreshadowed, you can set your own offset by entering a number in the input box beside each dataset, or you can set a global value. What you write in a box is operative for the next plot. You can click again on a radio button if you want the same data with a different offset. The global and local offsets are additive - you probably don't want to set both. The clear all button will set all offsets to zero - ie to match GISS Ts as above. Added: Ron Broberg in comments linked to this plot that he made of an update to the TS 26 fig of the AR4 Tech Summary. The dots before 2006 are Brohan 2006, after they are HADCRUT 3v.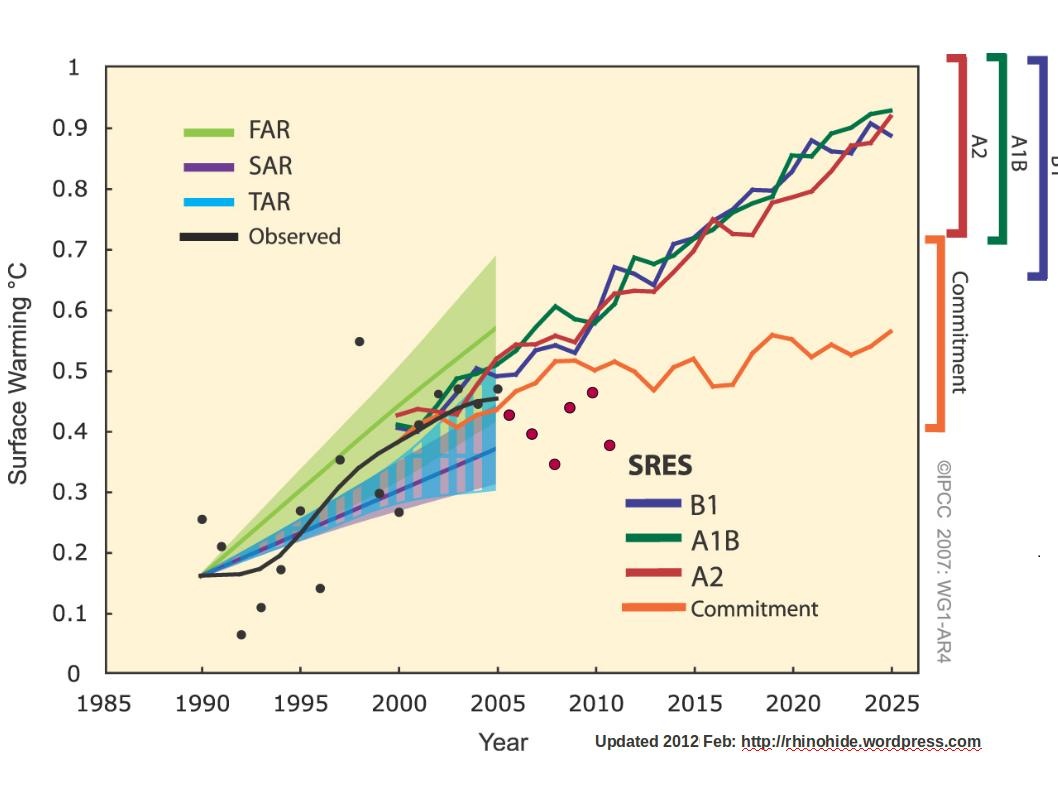 The RC plot that he linked is
here
. It's from the article linked above.