Airborne Fraction of CO2 is the ratio of the amount observed in the atmosphere to the amount emitted. I have been writing (
here
and
here
) about how it seems to be extraordinarily stable. In saying this I define and plot it in a different way to the usual, in which it appears more variable, leading to speculation about trend. I'll say more about this different way below. But I think I have worked out the explanation for the stability, and it isn't obvious.
People tend to think first of Henry's Law, which suggests a fixed partition of a solute (including gas) between two phases. This is a material property, and refers to equilibrium, which does not apply to CO2 in air/sea. It applies even less to the land sink, which is quite important.
In this note, I will show that the constancy, perversely, depends on the dynamics, and is a result of the near exponential increase in CO2 emissions. This effect is mostly independent of the actual mechanism for the sinks. It is really a consequence of linearity with exponential increase.
Since this post is something of a math proof, here is a TOC:
Cumulative plotting
People usually discuss airborne fraction as a ratio of annual increment of mass of CO2 in air to the increment injected. For example, the AR4 shows
Fig 7.4.1
: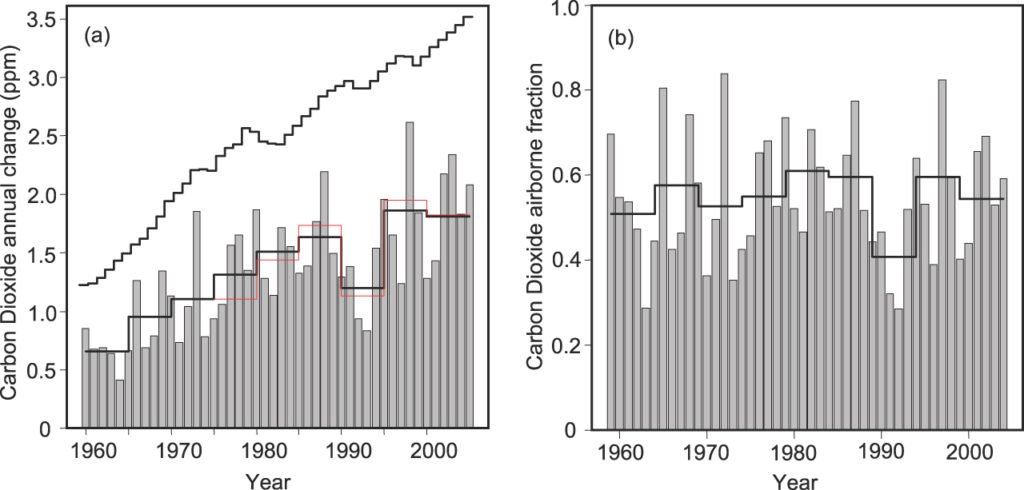 On that basis, there are papers
here
and
here
, which suggest the fraction may be increasing.
I think that method of calculation loses information about the CO2 buildup. Ppmv CO2 is measured as a succession of states. The differences by year are quite noisy, but the noise cancels. When you measure the state in 2015, that is unaffected by noise in previous measures. With cumulative emissions, this is not true. Noise in annual emissions accumulates, with no corrective state measure.
The conventional AF uses the annual differences of CO2 ppm, and loses the benefits of stabilizing state measure. It might be said that this does not matter so much, because it is divided by emissions, which don't have a state measure. But emissions are, or should be, more accurately determined. They are economic statistics, compiled by an army of accountants.
Exponential emissions
I'll be talking more about the exponential increase in emissions. The usual way to illustrate that is with a log plot. Here are the cumulative total emissions as a function of time, up to 2011:
It's very close to exponential from about 1930 onward, with doubling time 22 years. So the annual increments must follow a similar exponential, with more noise. One might ask - should I have plotted the increments. I don't think so - I'll be using integrals of the emission rate.
Steady observed airborne fraction
So I'll show the more stable measure. But first I note that there are actually two airborne fractions quoted. One is the ratio of CO2 in air to total emissions, including land use. This comes to about 0.44. The other is the ratio to fossil fuel (and cement) emissions alone, which is about 0.55. I plotted both
here
, and both arre stable; I'll refer to the total emissions in this post. The plot showing stability is here: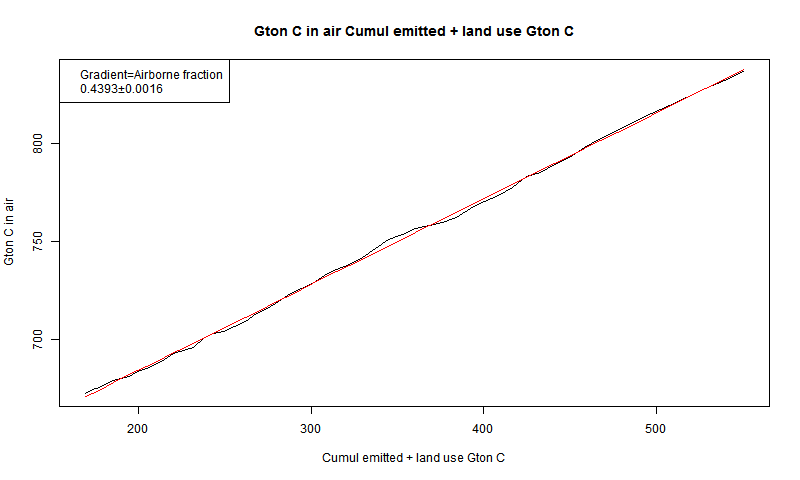 I have tracked the cumulative emissions from about 180 to 530 Gtons. If you go back to early times, the line does start to waver.
Linearity and superposition.
I discussed the application of the Bern model
here
. That model supposes a impulse response function (IRF), and that is the basis for my theory here. The idea of an IRF is that each puff of CO2 emitted has a time course in the atmosphere, which is the same for puffs emitted at different times (relative to emission), and the different puffs to not interfere with each other. These are widely applicable assumptions, and depend little on the detail of the absorption mechanism. The practical consequence is that you can represent the CO2 in the air at any time as the added effect of all the puffs:
M(t) = ∫ E(t-τ) F(τ) dτ
where E is the emission rate, F the IRF, M the mass of CO2, and the integral goes from -∞ to 0. It says that if E(t-τ) dτ was emitted time τ ago, a fraction F(τ will now remain, and the total is the sum of these fractions.
Airborne fraction invariance
So suppose exponential growth E(t)=a*exp(b*t). Then
M(t) = a*∫ exp(b*(t-τ)) F(τ) dτ= a*exp(b*t)∫ exp(-b*τ) F(τ) dτ ...again, the integral goes from -∞ to 0
Now the integral does not depend on t. The denominator of the airborne fraction is just the same expression with F=1 - ie as if no decay happened at all. Then for all t, the ratio is
AF = ∫ exp(-b*τ) F(τ) dτ/∫ exp(-b*τ) dτ = b*∫ exp(-b*τ) F(τ) dτ
This is actually just minus the Laplace Transform of the derivative of F at b. But it is independent of t, for any (reasonable) F.
Airborne fraction if emissions growth is not exponential
Well, first as seen above, it actually isn't really exponential before about 1930. But these are integrals - that part of the curve makes in modern times a very small contribution. But what if it changed in future?
Suppose emissions slowed. You'd expect that with more time to be absorbed, the AF would diminish. In terms of these integrals, we have the laplace transform of a diminishing function F divided by the transform of 1. Both will increase, but the transform of 1 will rise faster (behaviour at ∞) so again, the AF will diminish. Emissions rising faster than the current exponential would see the AF increase.
The paper of Knorr cited above, and some others, suggest the AF may be increasing. If so, this would be because of a divergence from linearity, probably caused by saturation of sinks. This is worrying from an AGW point of view; the relatively low AF has been a mitigator. But there is no sign of an increase in the cumulative plots.