In a
previous post
, I showed the accumulation of mass of carbon (as CO2) in the atmosphere (using annual Mauna Loa data with Law Dome ice core data), on the same scale as the mass of carbon as fossil fuels (and cement making) that we have emitted. It makes it very obvious that the rise in CO2 is associated with our emission, and that we have at most stages emitted more than has accumulated.
However, the match is not exact. The CO2 did start to rise while our emissions were small. I remarked that this is likely due to land clearance, which transfers C from the plant biomass to air. A commenter suggested that I include that in the plot.
So I do that here. I am using the land use data of Houghton, from the
CDIAC site
. It goes from 1850 to 2005. I have assumed for plotting that annual increments since 2005 are unchanged (they were fairly stable pre-2005). It is an estimate of nett carbon emitted due to land use changes in general, including reforestation etc.
This allows me to do a separate calculation of the airborne fraction (AF) - the fraction of emission that stays in the air. I find that the added CO2 rises very linearly with total anthropogenic addition, and the AF is 44%, with very little sign of change.
So here is the revised plot of mass of atmospheric C and the anthropogenic additions (see
previous post
for scale factors). As before, the light red curve shadowing observed C is the anthro added C, scaled by AF of 0.44.
There is a slight dip in ice core CO2 1600-1800, which could be due to the LIA,
Below the jump I'll show a plot for more recent years, and the airborne fraction plots.
Here is the recent version, post 1800:
And here you see, for the Mauna Loa period (1959-), the mass of C in the air plotted against all anthro addition (fossil + land use). It is very linear, and the regression slope is 0.439.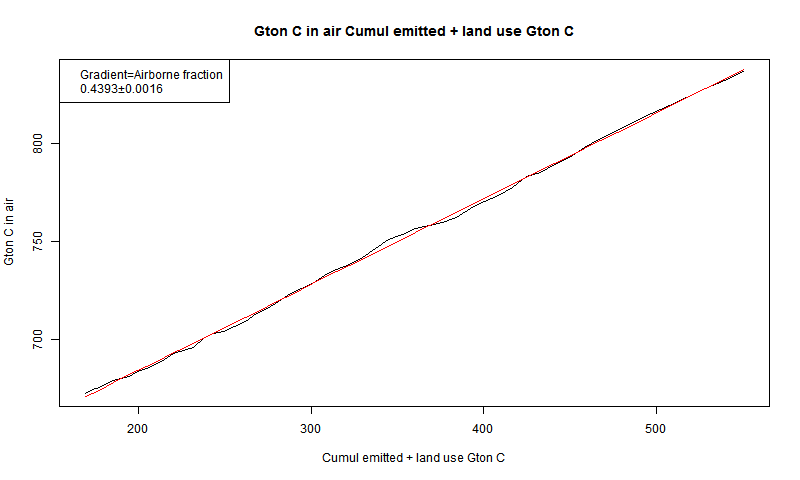 Airborne fraction is described in
AR4 Ch 7
. It is often described in terms of AF of emissions, rather than total anthro. Here is my corresponding plot of air C vs fossil fuel emissions.
The AF is of course larger, at 55%, and is quite close to what Scripps quotes.
A point is that my values seem much stabler with lower errors than the AR4 values. I think the method they describe, showing the ratio of annual changes in isolation. loses a lot of information - the fact that the changes are consecutive and cumulative. In effect, they treat AF as something that could be different with no correlation from year to year, and they describe population statistics of the implied values. My analysis assumes that the AF is a physical thing, likely to be sustained from year to year.