This post is a followup to some recent discussion of
ocean acidification
at Climate etc, which provoked scorn from
Stoat
, and in turn
snark from WUWT
.
Inevitably, the first comments are along the lines of "can't be acidification until pH7" (never with a reference). I blogged on that
here
. I'd like to take up two points from that - Lewis acidity and buffers. The general aim of this post is to put pH in context. It's over-used.
Lewis Acid
Early definitions of acidity relied on the properties of hydrogen ions, and of course pH is central. But in 1923, Lewis generalised the notion of acidity to the
sharing of electron pairs
, which needn't involve hydrogen.
That's an important simplification. In fact, H+ has very little final role in the seawater reactions. You can
express them
as:
CO
2
+ CO
3
--
+ H
2
O ⇌ 2HCO
3
-
Ca
++
+ CO
3
--
⇌ CaCO
3
No protons, but the Lewis acid CO
2
reacts with the base CO
3
--
, shifting the solubility equilibrium.
Buffers
Buffering is often thought of as pH buffering, but again I'll aim to generalise. In fact, it's just a consequence of ternary equilibrium:
H + A ⇌ HA
The Law of Mass Action gives the equilibrium relation:
[H][A]/[HA] = K
If K is of moderate size, and [H] is small relative to [A] and [HA], then whether the reaction moves back or forward, [H] remains relatively fixed because the dominant species don't change much in proportion.
The familiar pH version arises when HA is a weak acid and [A] a weak base. Then [H
+
] is small, and relatively fixed (buffered) by the equilibrium.
A common sceptic scoff at acidification is, how could so few H
+
ions make a difference? At one level it's right - they can't directly. But what buffering means is that if [H
+
] changes, then something else has changed, by a lot. And that is what is likely to cause changes.
Sea-water reactions
These were listed above:
CO
2
+ CO
3
--
+ H
2
O ⇌ 2HCO
3
-
Ca
++
+ CO
3
--
⇌ CaCO
3(aragonite)
I'll ignore the effects of hydration of both H
+
and CO
2
There is an excellent
review article
by Zeebe which sets this out in much more detail, and I'll refer to it later.
The effect is that when CO
2
is added, the first equilibrium shifts to the right, CO
3
--
is diminished, shifting the second equilibrium to the left. The equations can be combined:
CO
2
+ CaCO
3
+ H
2
O ⇌ 2HCO
3
-
+ Ca
++
This emphasises that ultimately each extra molecule of CO
2
tends to dissolve a molecule of CaCO
3
, if equilibrium shifts to the right.
pH Equilibrium relations
The equilibria can also be expressed as the more traditional diprotic acid-base expressions
CO
2
+ H
2
O ⇌ HCO
3
-
+ + H
+
; pKa=5.94
HCO
3
-
⇌ CO
3
--
+ + H
+
: pKa=9.13
The pKa values are the log10 of the equilibrium constants.
The equilibrium can be shown against pH as
Bjerrum plot
. This shows relative concentrations normalised against DIC = dissolved inorganic carbon. This is just the sum:
DIC=[CO
2
]+[HCO
3
-
]+[CO
3
--
] Here is the plot: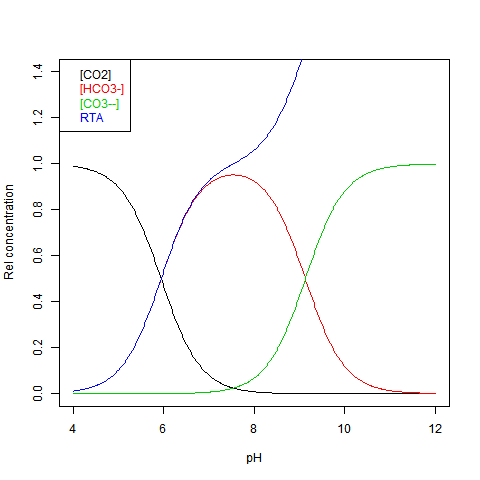 RTA stands for Relative (to DIC) Total Alkalinity - see next.
Equilibrium relations - some numbers
I'm following the
Zeebe review article
here. Typical values for dissolved species:
DIC 2.05E-3 M (M = 1 mol/l ~ mol/kg)

Total Alkalinity=[HCO3-]+2*[CO3--] = 2.35E-3 M

ratio %: [CO2]:[HCO3-]"[CO3--]=0.5:89:10.5 at pH 8.2

So [CO2]=1E-5 M, [HCO3-]=1.82E-3 M, [CO3--]=2.1E-4 M

At pH 8,2, [H+]=6.3E-9 M; [OH-]=1.6E-6 M;

Sea Water measurement
Eli had a
post arising
from these threads on pH measurement. It's hard. However, there is a new method, probably less accurate, but suitable for continuous monitoring. It uses an ion-selective field FET,
SeaFET
, which can be set in place for months at a time. But, as insisted here, pH is over-emphasised. It follows the major species, and they can be used to measure it. Two quantities easily measured by flask analysis are all you need. One is DIC. This can be measured gravimetrically. The other is Total Alkalinity (TA) TA=HCO
3
-
]+2*[CO
3
--
] This can be determined by acid titration with an indicator that changes about pH=4.5, which removes almost all bicarb and carb. The titration also picks up borate and hydroxide, and [H+] needs to be subtracted, but these are small effects which I will ignore here. All you need are the values of DIC and TA - both easily obtained by flask analysis. The point is they are present in much larger concentrations, and are more stable.
Use of equilibrium relations
Given DIC for normalisation and any other concentration (in particular TA), you can read a pH value from the Bjerrum plot, and deduce everything else. But here are some more convenient log plots. Firstly with pH again on the x-axis, but log10 on the y-axis. Note that both log([CO
3
--
]) and log([CO
2
]) vary close to linearly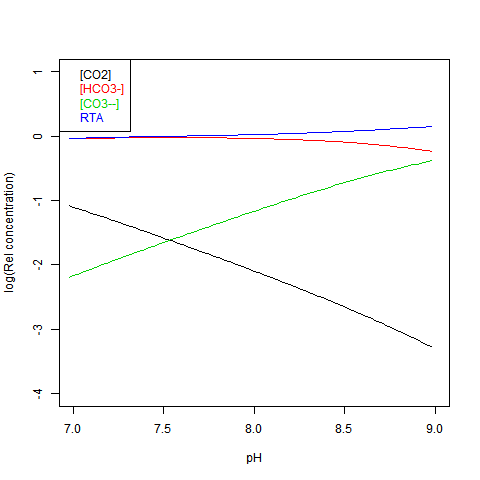 Now shifting the relative total alkalinity RTA to the x-axis. This allows the other values to be read explicitly:
RTA is easily obtained, but doesn't preserve the linear relations. Here is log([CO
2
]) on the x-axis:
Solubility equilibrium
The end problem is dissolution of CaCO
3
structures. Two reasons are sometimes given why this may not matter

Biological deposition is complex - not just a solubility product

The oceans are supersaturated relative to aragonite formation (the CaCO3 form used by most organisms).

Deposition is complex, though I have trouble believing that reducing [CO
3
--
] won't make it harder. But in any case, the structure once formed has to resist solution, at all times, when conditions are fluctuating. Another reason advanced for unconcern is that pH continuously monitored shows fluctuations large relative to the long term changes wrought by CO
2
increase. It's not clear whether these track changes in carbonate, but if they do, then clearly the structures are intermittently exposed to dissolving conditions much worse than average. And dissolving once is enough.
Discussion
What I hope these plots will show is that pH is just one of a number of co-varying quantities, and because of the small number of ions represented, is far from the most important. You can use it to track the reaction if convenient, but you don't have to. It's an intermediate - the nett reaction is CO
2
neutralising CO
3
--
, producing HCO
3
-
. This then affects the CaCO
3
solubility equilibrium. The secondary role of pH is relevant to the following things that have been said in the acidification discussions:
"Acidification requires pH<7
pH is just an indicator of the carbonates equilibrium. pH 7 has no relevance.

The number of H+, even with acidification, is too small to matter
True, H+ are not the problem

pH measurements are sparse and inaccurate
But not TA/DIC, which is enough.