GISS in March is
out
. The global average anomaly was 1.28°C; down 0.06°C from Feb, but by a long way the warmest March in the record (
Sou has details
, note the
YTD map
). The result is very close to TempLS mesh, which now shows a 0.04°C drop. TempLS rose quite a lot since
announced
; commenter Olof thinks that Sudan data pushed it up. The
NCEP/NCAR index
also dropped by 0.057°C.
Here is a plot of the comparison with 1998. In that year, March dropped a lot from the February peak, but then recovered somewhat.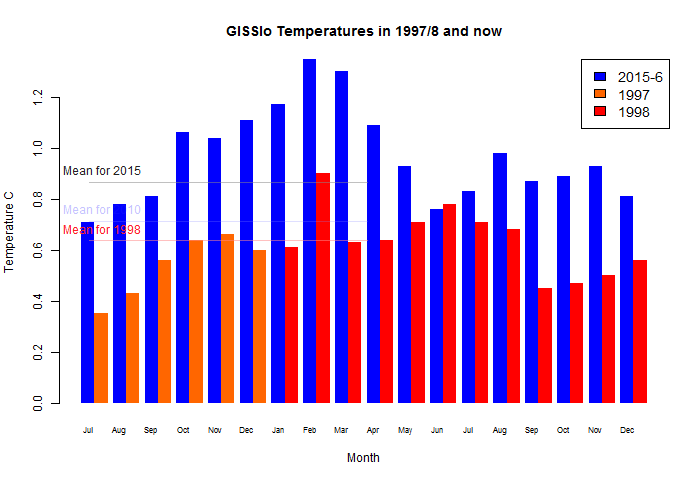 I'll show the world GISS map below the fold. It shows the same general pattern as
TempLS
; a band of warmth from Europe through Russia to the East, and another through Alaska to central Canada, plus Arctic. General warmth in Africa, Australia and Brazil. Colder spots in Labrador, Argentina, Antarctica and the N Pacific.
Here is the GISS map (from
here
):
And here is the corresponding TempLS spherical harmonics plot: